Blog
How to find The Meadows
Hollingbourne Meadows:
There are three principal entrances from Hollingbourne Village, the Grove Mill entrance, the Hasteds entrance and the Culpeper entrance.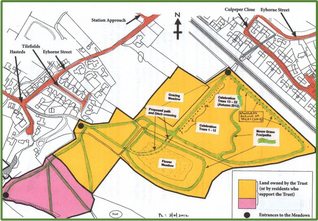 Grove Mill: Walk down Windmill Lane (to the right of "The Windmill"), continue past the Village Hall, then keep to the left of the various buildings and follow the pathway through a gate and up a sloping path into The Meadows.
Hasteds: Enter the footpath situated between Hasteds and Eyhorne Street (there is a footpath indicator). The footpath leads directly to The Meadows, entering by a gate.
Culpeper: Enter Culpeper Close from Eyhorne Street (opposite the Primary School), follow the road as it turns left, then enter the first lane on the right, which passes through a gate, then under the railway bridge, and into The Meadows.

Eyhorne Meadow:
Coming into Hollingbourne from the Great Danes roundabout, the entrance to Eyhorne Meadow is on the left, immediately after crossing over the motorway.The entrance is clearly marked with a gate and a sign. The High-speed rail link runs in a tunnel under Eyhorne Meadow.