Blog

.
Private Lewis Albert Excell
Service Number: 11473, 10th Bn. Queen's Own (Royal West Kent Regiment)

--o00o--
---
Private Frederick Foster
Service Number: G/11475, Queen's Own (Royal West Kent Regiment) 10th Bn.
--o00o--
---
---
Private Robert William Watts
Service Number: L/7886, 1st Bn. The Buffs (East Kent Regiment).
--o00o--
---
---
Private Albert Edward Croucher
Service Number: 23485, 1st Battalion, Oxfordshire and Buckinghamshire Light Infantry
Albert was born in the summer of 1897 in Hollingbourne, his parents were John and Rosa Croucher. There were six children, all boys, in what must have been a lively household, Albert was the second youngest. The census of 1911 has the family living in Roseacre with dad and three of his sons working as farm labourers.

Albert enlisted in Maidstone in January 1916 and eventually became 23485 Private A. E. Croucher of the 1st Battalion Oxfordshire and Buckinghamshire Light Infantry.

At the outbreak of war the 1st Battalion Ox & Bucks L. I. were stationed in India. In November 1914 they sailed from there to Mesopotamia (modern day Iraq) and remained in that theatre of war for the duration.

In 1915 the British advance against the Turks seemed unstoppable but later that same year fortunes turned in favour of the enemy. The initial successes being turned into defeat at the Battle of Ctesiphon. The army of which the 1st Ox & Bucks were part retreated to the City of Kut, where a garrison made up of British and Indian troops kept the Turks at bay. With food supplies running short and the attempt to relieve Kut having failed by April 1916 the garrison of 8,000 were forced to surrender. It is estimated that 5,000 of these prisoners died in captivity.

Back at home in January 1916 a provisional force was formed which was to eventually become the new 1st Battalion Ox & Bucks Light Infantry. Albert joined this group and in May 1916 they all set sail for Mesopotamia. A considerable force of 150,000 troops assembled determined to avenge the humiliating surrender of April. The new Ox & Bucks were part of this force.

On the night of the 13th/14th of December 1916 the British attacked, progress was slow on account of heavy rain. It took a full two months with efforts to minimise casualties a high priority. By 27th February 1917 Kut had been recaptured and progress was being made towards Baghdad.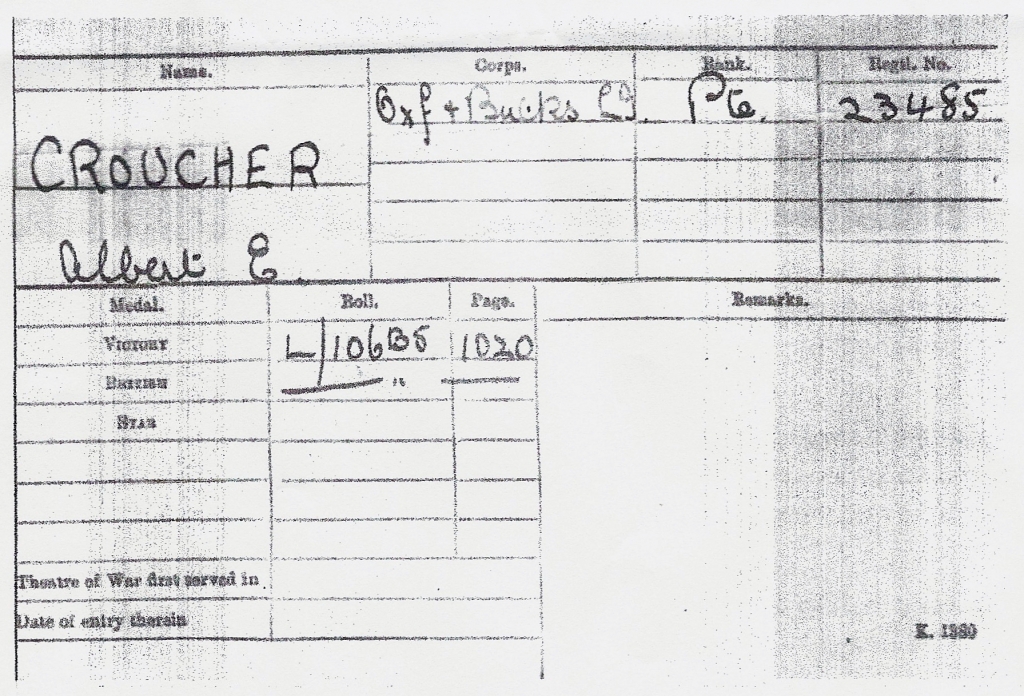 The British/lndian Army pushed the Turks back, entering Baghdad after the Turkish Army withdrew from the city.

Many battles followed with steady progress being made, and then on the 30th October 1918 the Turks signed an armistice and the war in the Middle East ended. Albert was not there.

Somewhere and at some time during this tumultuous period Albert became sick, he died in hospital in Baghdad on Monday the 18th March, probably of cholera, he is buried in grave ll. B. 6 at the Baghdad (North Gate) Cemetery Iraq. Pictured left is the official record of Albert's Victory Medal.

The troops suffered tremendously with flooding, flies, mosquitoes and other vermin, all in extreme temperatures. 11,012 were killed, 3,985 died of wounds, 12,678 died of sickness, 13,492 were missing or taken prisoner, and 51,836* were wounded.

*Statistics of the Military Effort of the British Empire (London HMSO 1920).
--o00o--
---
Private Harry Barling
Service Number: 11174, 19th (Queen Alexandra's Own Royal) Hussars
--o00o--
---
---
Aircraft Mechanic AMIE. Walter James Priest. Royal Naval Air Service/RAF. Service No: F21948.
And

Flight Lieutenant Henry John Laming. RAF. Service No: 52108.
--o00o--
---
Private Thomas William Jefferys
Service Number: 33348, 1st / 4th Battalion York and Lancaster Regiment.
Died 9th October 1917, aged 21, at the battle of Passchendaele, Ypres.
Thomas William Jefferys was the Son of Mr and Mrs Jefferys of Camberwell, London. He was married to Eliza Ann (nee Ball), and they lived in the Old Kent Road, London. They had two children, a daughter, Dorothy and a Son, Thomas; who were aged two years 11 months, and one year, respectively at the time of his death.Thomas William Jefferys is commemorated at Tyne Cote Memorial.
He is proudly remembered by many family members who he never knew.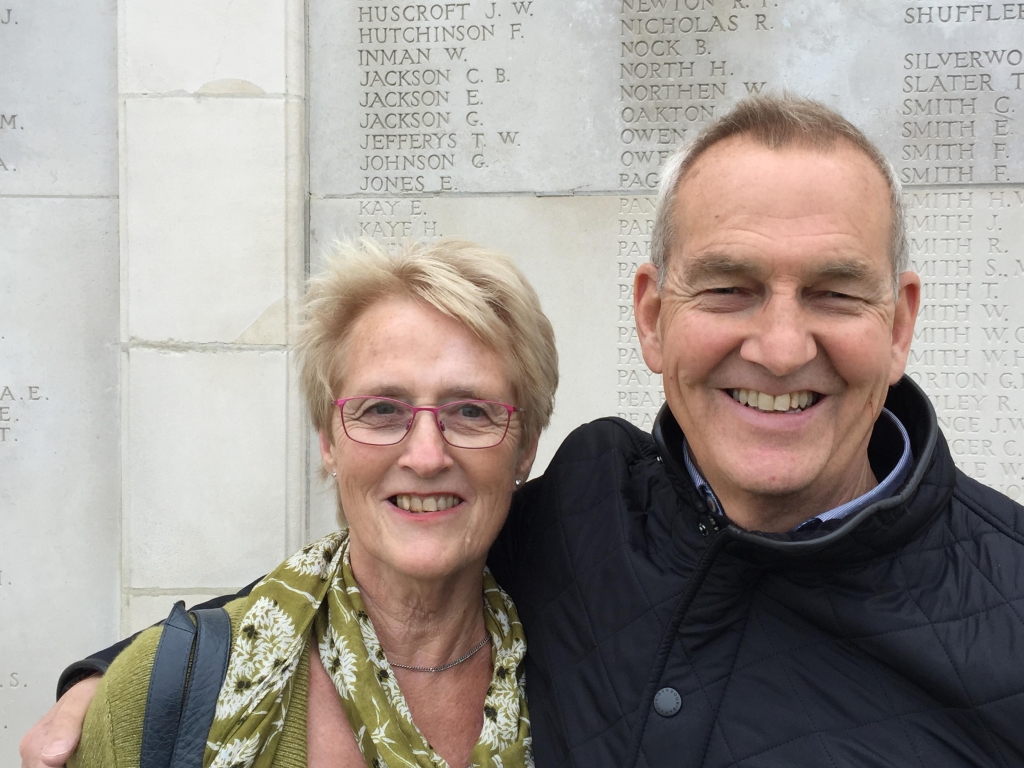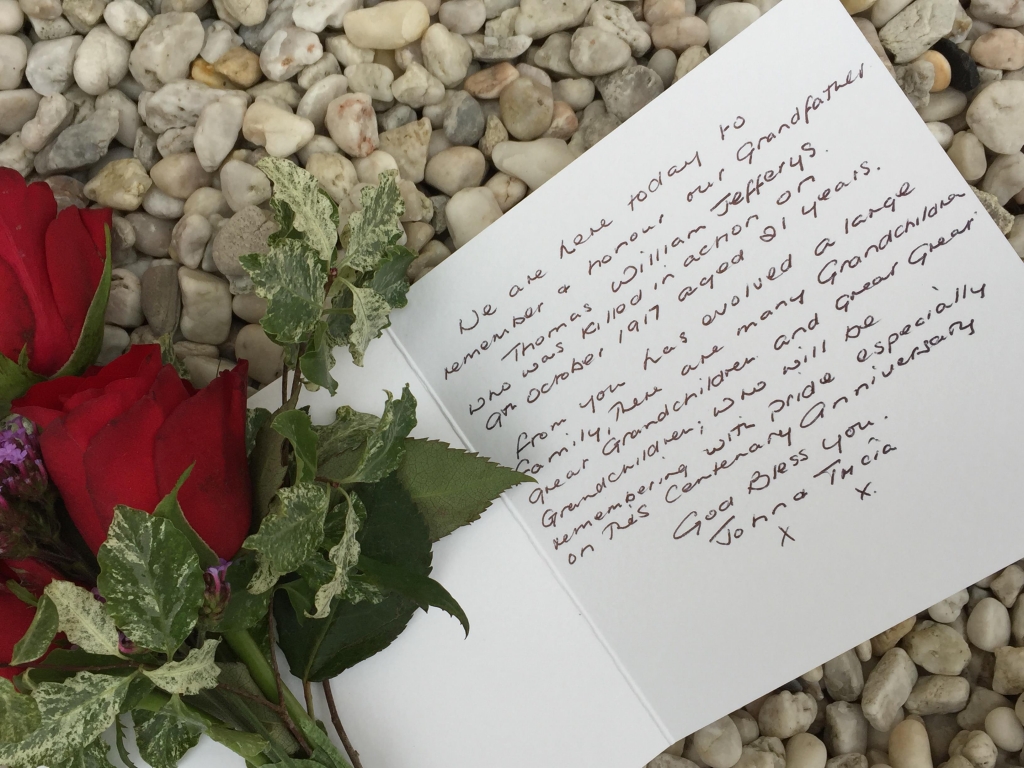 --o00o--
---
---
---
---
John Henry Overs
Army Emergency Reserve, Royal Army Ordnance Corps. 1933-2020
--o00o--
---
---
---
Private Frederick Mint
Service Number: G80406, Middlesex Regiment
--o00o--
---
Private Frederick James Haig
Service Number: 3845, 1st Battalion, Welsh Guards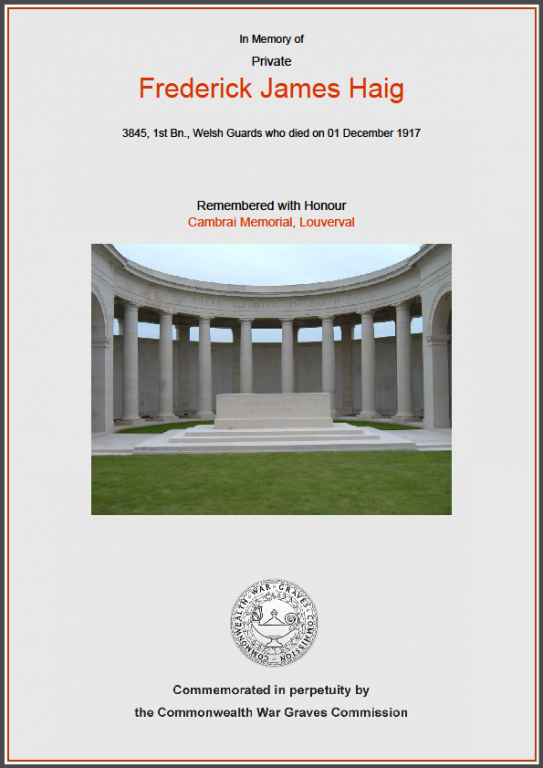 Fred was born on the 24th September 1898 to James Douglas Haig and Elisabeth Jane Haig, formally Joslin.
James Haig (born 23rd December 1866) was the Game Keeper and Elisabeth Joslin (born 22nd October 1870) was the Cook, at Gosford House in the Parish of Aberlady, County of Haddington, East Lothian, Scotland.
They married on 20th June 1897 and lived in Harestane Cottage, which was on the Golf Course and part of the Gosford House Estate. The cottage, now part of Craigielaw Golf Club is where Fred and his younger sister Molly (Mary Elisabeth Haig, born 27th May 1901) were born and raised.
The family then moved to Windmill Farm, Frant, near Tonbridge Wells which was owned by the Joslin family. It was here that Fred's youngest sister Kathleen Edith Haig was born 6th February 1915.
Age 15 Fred tried to join the army only for his dad James to fetch him home. He did however join up aged 18 and at 19 he was killed at Cambrai on 1st December 1917. His body was never found and he is "Remembered with Honour" on the Cambrai Memorial, Louverval.
Remembered by a family he never knew
--o00o--
---
---
---
Private Frederick William Linnell
Service Number: 43210, 9th Bn. Royal Irish Fusiliers
Frederick William Linnell was born in Sawley, Derbyshire in 1895, to Alfred and Catherine. He had six siblings, all sisters. Fred was a private in the Royal Irish Fusiliers and was killed at Ypres on 16th August, 1917, aged 22 years and is buried in the New Irish Cemetery in Ypres. This memorial is sponsored by Martin, Allan and Richard Smedley, whose grandmother, Gertrude Julia, was one of Fred's sisters.
--o00o--
---
---
Cpl. Frederick Leslie Banyard
3rd Reconnaissance Corps. 8th Battalion Royal, Northumberland Fusiliers
--o00o--
---
Private Fred Taylor
Service Number: 34733, 8th Bn. North Staffordshire regimentNorth Staffordshire regimentN North Staffordshire Regiment
My great-uncle, Fred Taylor, was born in East Peckham in 1897, the second youngest of 13. His father, Alfred, worked for Walter Arnold who ran an engineering and milling company and the family lived on site at Bran Bridge Mill.
Fred is shown on the 1911 census, aged 14, working in a billiard ball factory. Papers show that, like many men at the outset of war, Fred was not old enough to join up but lied about his age as he was 17yrs. He joined the North Staffordshire Regiment, service no 34733, 8th bn.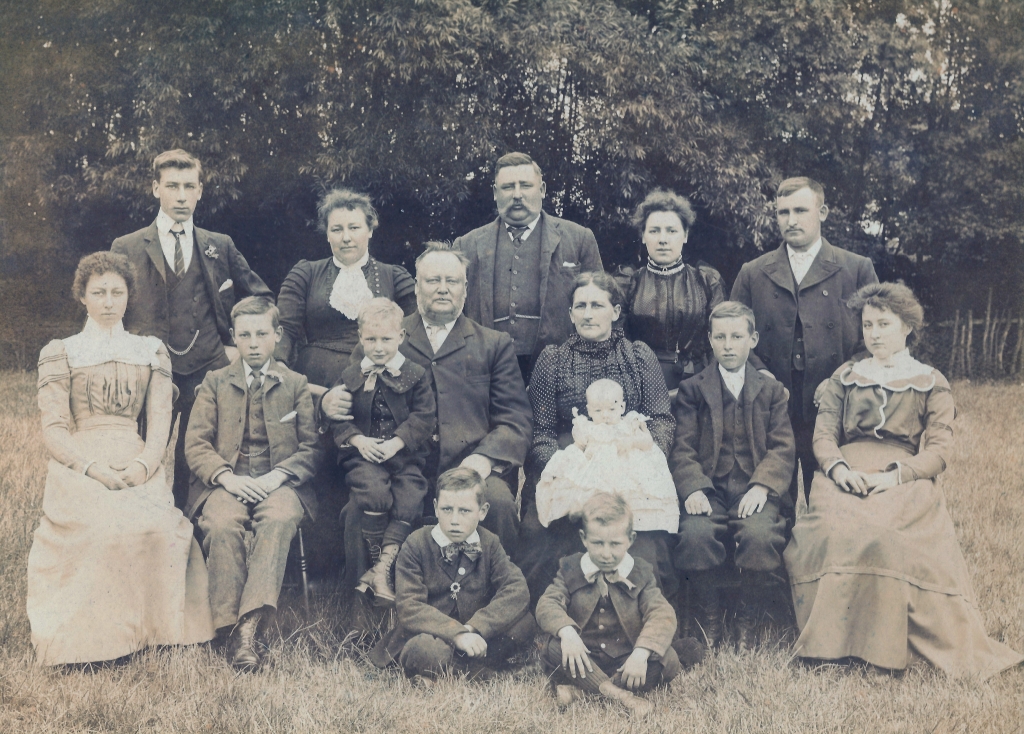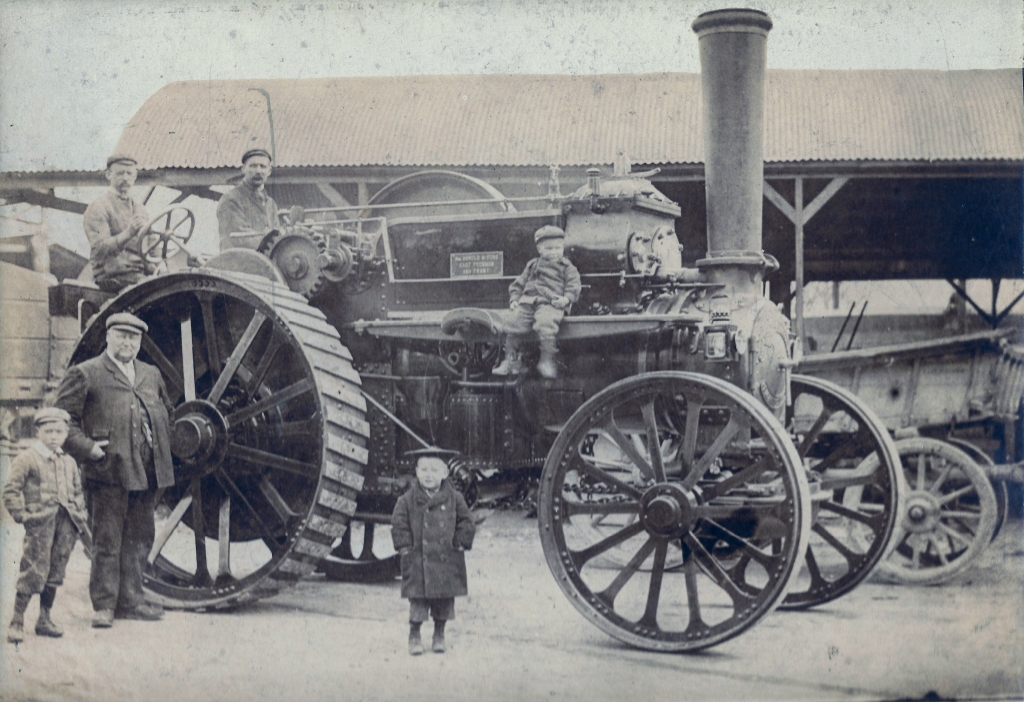 The family photograph (Far left), taken in 1901, shows Fred seated on the grass, front right, aged about 5 with his parents and their 13 children.

The second photograph (Left) shows the Arnold Works with some of the Taylor boys on and around the traction engine with their father.


Fred was killed on 24 March 1918 on the first day of the second battle of Babaume. The regimental diaries for that day describe being forced back by advancing German troops and that not all the men made it out. Fred was reported missing, died of wounds and has no known grave.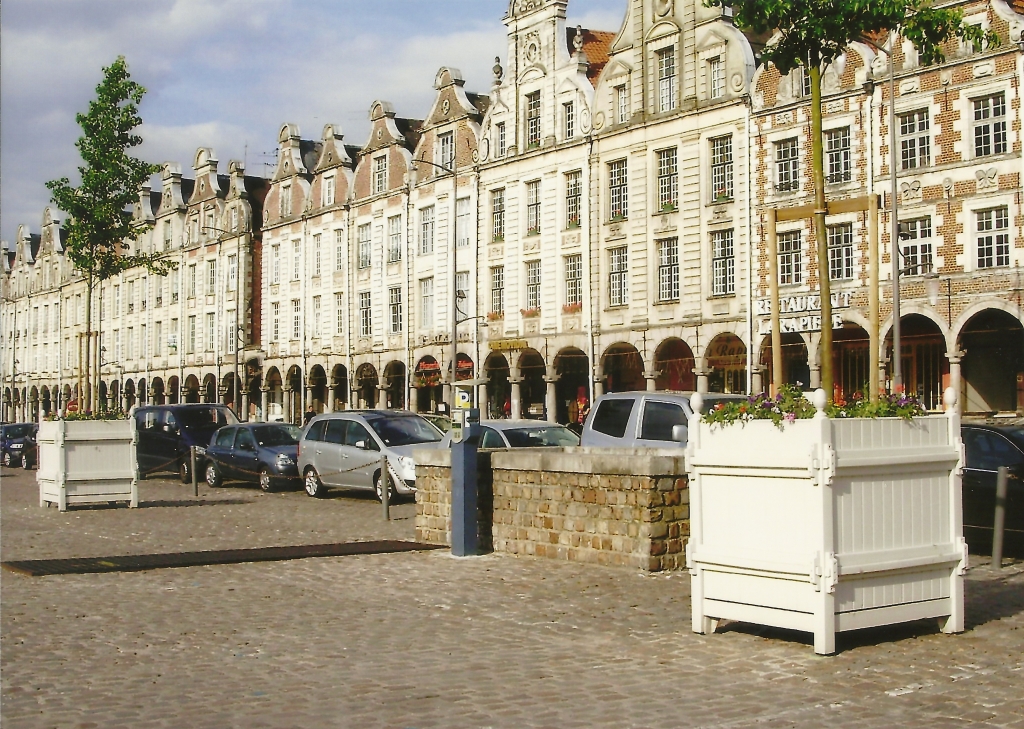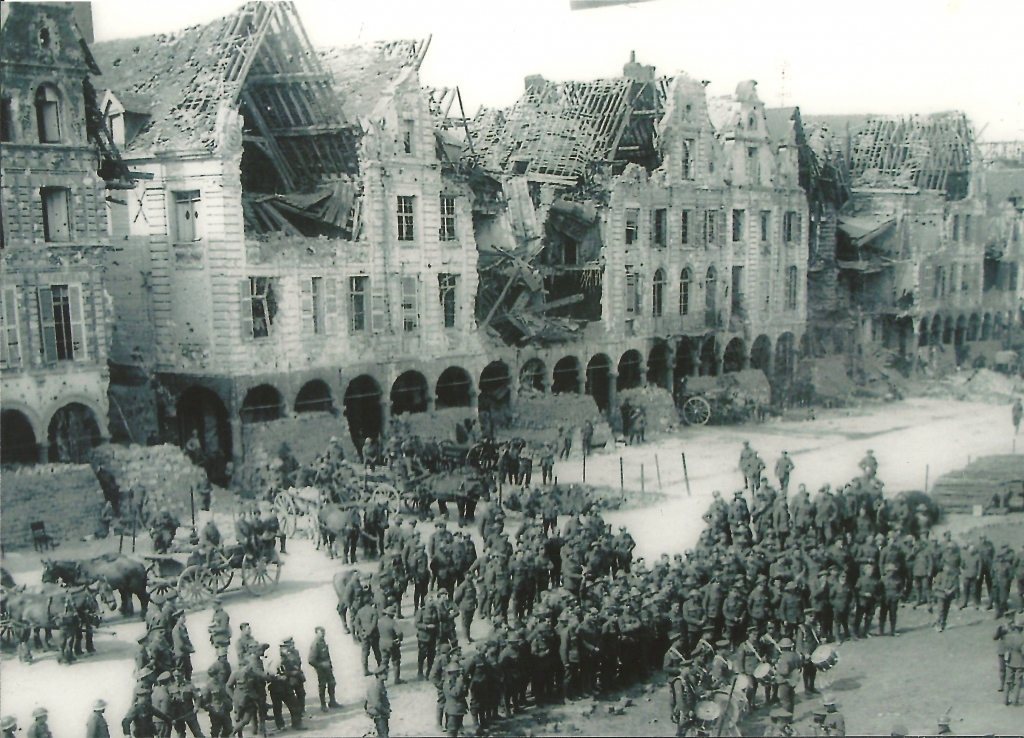 Two photographs of the central square in Arras. Left, a modern day Arras, right, WW1 soldiers listen to a band in the same square, surrounded by devastation.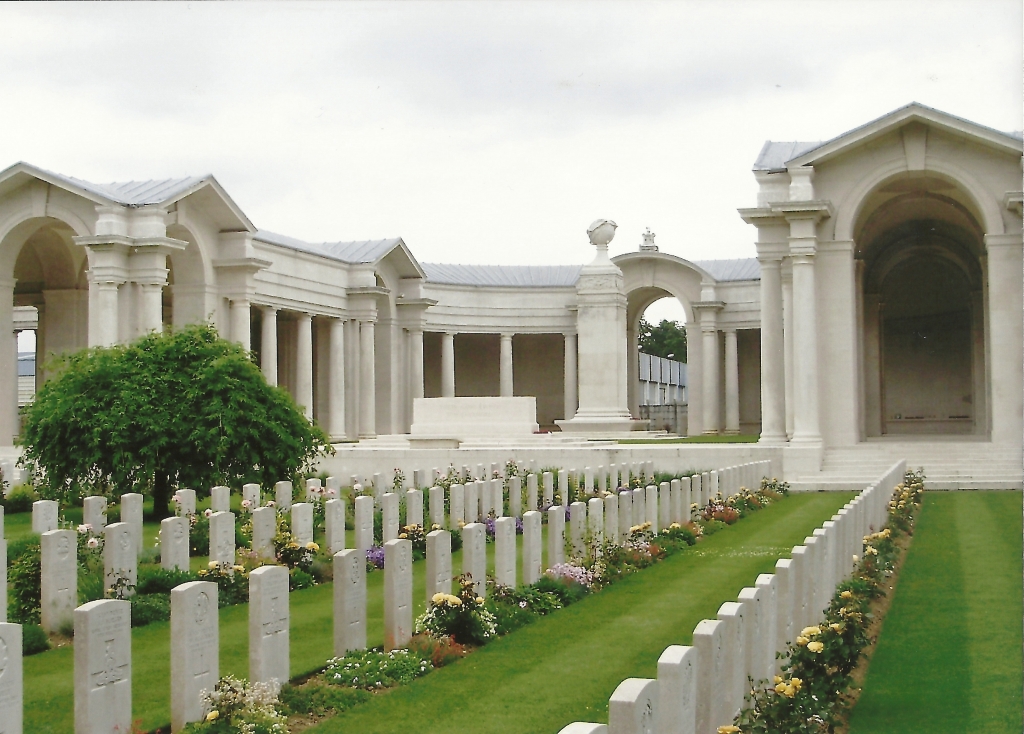 He is commemorated at the Arras memorial in Northern France.
--o00o--
---
Private Bertie Mower
Service Number: 8851, 1st Bn. Suffolk Regiment
--o00o--
---
---
Private Frederick William Johnson
Service Number: G49236, 2nd Battalion The Queen's (Royal West Surrey) Regiment
--o00o--
---
---
---
---
Private Charles Behan
Service Number: 63549, 196th Company, Machine Gun Corps
--o00o--
---
---
---
---
---
---
---
---
---
---
---
Private Thomas William Shilling
Service Number: 43621. Machine Gun Corps

Served in the Royal Engineers Machine Gun Core between 1914 and 1918, suffering shrapnel injures to his shoulder

Awarded the 1914 – 1915 Star/Victory Medal/British War Medal

Married to Ciss Mitchell

Children:
- Dorothy Born 1928
- Beryl Born 1930
- Sylvia Born 1931
- Mary Born 1943
- Joyce Born 1947
Lovingly remembered by his family
--o00o--
---
Private James Jury
Service Number: 7812. Lincolnshire Regiment

6th November 1884 – 30th September 1956

Served in the 7th Lancers - Green Howards - South Africa War

Served in WW1 Lincolnshire Regiment

Wounded at the Somme 1914, with an Honourable discharge 1st November 1915

Awarded the 1914 - 1915 Star/British War Medal/Victory Medal
Married to Edith Ada Andrews
Children:
- William Born 1917
- Kathleen Born 1918
- Richard Born 1919
- Robert Born 1923
- Nora Born 1927
- Margaret Born 1929
- James Born 1931
Lovingly remembered by his family
--o00o--
---
Frantisek Synek (WW2)
RAF and the 1st Czechoslovak Independent Armoured Brigade Group
Also proudly adopting (From The Hollingbourne War Memorial)
William Walter Francis (WW1)
The BUFFS (East Kent Regiment) 2nd Battalion
.
Frantisek Synek (WW2)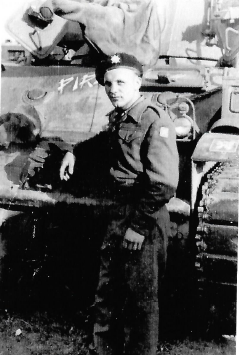 Frantisek (known as Frank in England) was at engineering college in 1939 when the Germans invaded Czechoslovakia (now the Czech Republic). He decided to escape, with the intention of joining the Allied Forces; an older colleague was insistent on going with him. They were recaptured in Hungary and suffered near starvation and lack of basic necessities in a prisoner of war camp. Eventually they were told that they would be returned to the Czech border and handed over to the Germans; fortunately the Hungarian guards who escorted them decided not to hand them over, instead to transfer them across the border to take their own chances. Frank escaped a second time through heavily guarded frontiers, this time going through mountains in freezing conditions with little food and only the clothes on his back.
The journey was harsh and in the former Yugoslavia he was denounced by the Croats but saved by the Serbians via safe houses. Eventually he managed to get to Beirut, via Syria, where he met up with other Czechs and joined the French Foreign Legion who returned to Marseilles in France on the troop carrier ship Amiens with other Czechs in the spring of 1940.
He trained briefly with the Czech infantry before fighting in the battle of France with the Legion eventually being ordered to retreat to Dunkirk. They marched in horrific conditions, as did all the retreating allies, completely demoralised; many soldiers died whilst many horses were shot due to exhaustion. The journey was made more difficult by the thousands of refugees flooding the roads. After intense discussions by the Legion commanders and British they were allowed to leave the Legion to go to Britain.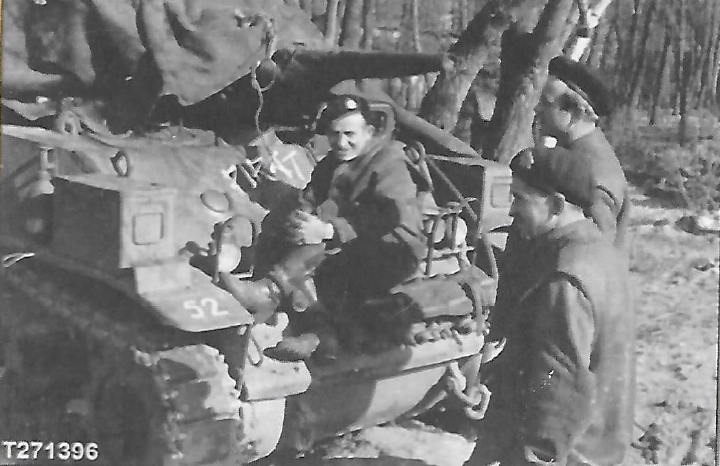 They were sent to Cholmondeley in Cheshire where an army camp was set up for the Czechs, from here Frank joined the newly formed 312 Czech squadron, part of the RAF at Duxford. He trained and flew as a rear gunner but after a while a problem with his left eye meant he could no longer fly. However he was by now excelling at Morse Code and wireless operating which would come into play later. Determined to fight on the front lines, he transferred to tanks which grouped under the '1st Czechoslovak Independent Armoured Brigade' (CIABG) in 1943. The brigade left for Normandy, Frank was in a reconnaissance (scout) tank, which went out ahead to report back enemy positions; here the Morse Code, wireless operating came into its own. They met up with the Polish and Canadian forces at Falaise, a German stronghold, from there they were ordered to Dunkirk to besiege and contain the Germans. At one point his tank was hit by enemy fire, he survived but another crew member who got out later died of his wounds.
Frank is named and photographed with the tank and his fellow crew members in a book written by Jaroslav Hajek. The tank was a Stuart M5A1 named 'Pirat', a name he had the honour of choosing; his photo is also on a plaque in a museum in Prague along with all the other Czechs in the RAF squadrons. He was demobilised in 1945 and returned home to Czechoslovakia, having the great satisfaction of arriving in Prague in his tank. Frank was devastated to learn that his only sister had died in a bombing raid towards the end of the war. For a while Frank was a translator for the British ambassador in Prague until he decided to return to his home town.
Frank was to escape his homeland yet again when the Russians occupied Czechoslovakia after the war, following a disagreement with a Russian officer a Czech policeman who felt indebted to Frank (he had saved his wounded son's life during the war) warned him that very night that he was to be arrested the following morning. He escaped to Britain to rebuild his life from scratch, he worked as an engineer and brought up his children. Frank spent the last few years of his life living in Hollingbourne with his family.
He is greatly missed by his 7 children and their families.
.
Private William Walter Francis (WW1)
Circa 1886 – 25th March 1915
Service number: L/7835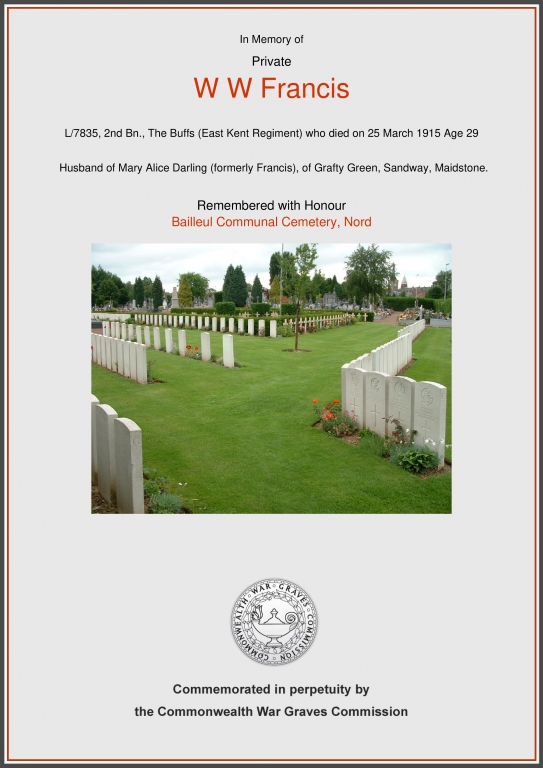 We have proudly adopted William Walter Francis from the WW1 Hollingbourne War Memorial, find below information from the war-records department and our search on the internet all of which, unfortunately, is limited.
William Walter Francis was a private, he trained and fought with the BUFFS (East Kent Regiment) 2nd Battalion. We know that William fought in France and Flanders and although we do not know when he joined, our research reveals the following:
2nd Battalion, East Kent Regiment (The Buffs) were in Madras when war broke out in August 1914. As soon as a territorial unit arrived to take over the garrison, the 2nd Buff's returned to England arriving on the 23rd December. They joined the 85th Brigade, 28th Division who were assembling near Winchester. They proceeded to France from Southampton, landing at Le Havre between the 16th and 19th January, they concentrated in the area between Bailleul and Hazebrouck, being joined by additional Territorial units. We know that he died of his wounds and think, going by the official records that it was very likely in Flanders.
William was married to Mary Alice Darling with no children he died at the age of 29, as William and Mary had no children and assuming that his wife has died, we hope that this is a fitting tribute, although by far not enough.
'Lest they forget'
--o00o--
---
---
---
---
---
Serjeant Walter Edmund Jordan
Service Number: G/19033, 10th Bn., Queen's Own (Royal West Kent Regiment)
Son of Mr. and Mrs. Horace Jordan, of 5, Albion Place, Newington, Sittingbourne; husband of Edith Gertrude Jordan, of Malt
Cottage, Hollingbourne, Maidstone. His brother Frederick William Jordan also fell.
--o00o--
---
Rifleman Almer Allsworth Davison
Service Number: S/48484, Rifle Brigade, posted to 1st/28th Bn. London Regiment (Artists' Rifles)

And

George Davison (1884 - 1951)
--o00o--
---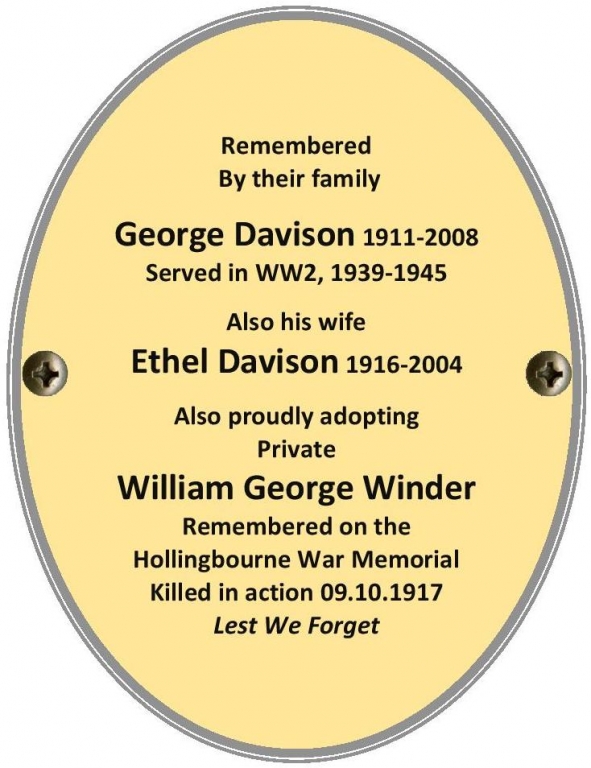 Dedicated to: George Davison (WW2)
Proudly adopting (From The Hollingbourne War Memorial)
Private William George Winder (WW1)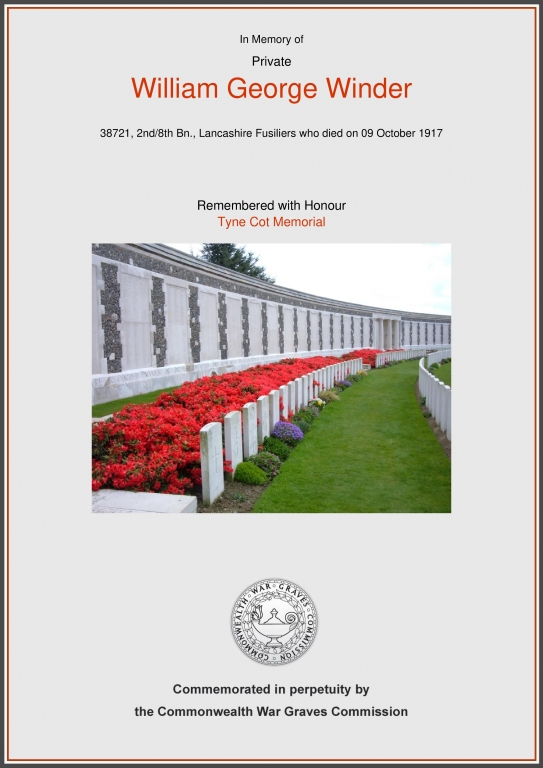 Service Number: 38721, Lancashire Fusiliers 2nd/8th Bn.
--o00o--
.
---
Company Serjeant Major Alfred McLean (WW1)
Service Number: L/7741, The Buffs (East Kent Regiment)

Proudly adopted from The Hollingbourne War Memorial by Derek and Jeanne Davison
--o00o--.
.
---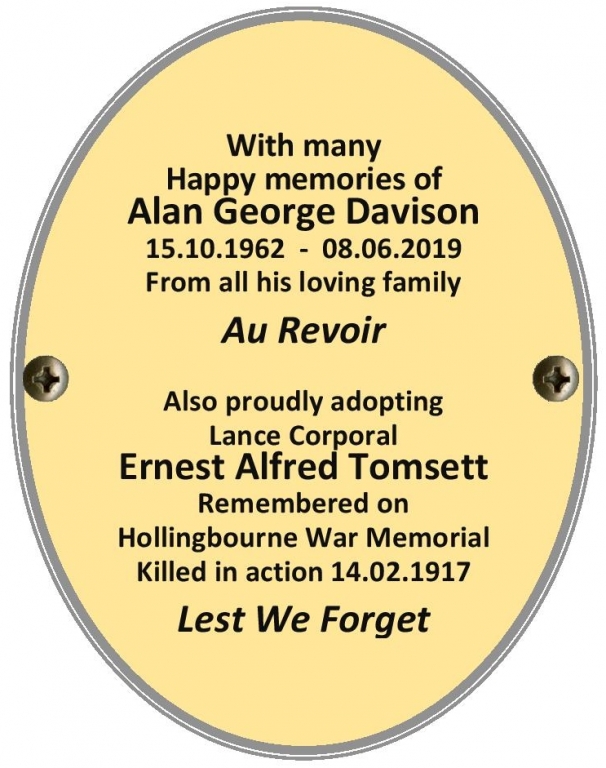 Dedicated to: Alan George Davison

Remembered by the Davison family, and proudly adopting in his memory (From The Hollingbourne War Memorial)
LCpl. Ernest Alfred Tomsett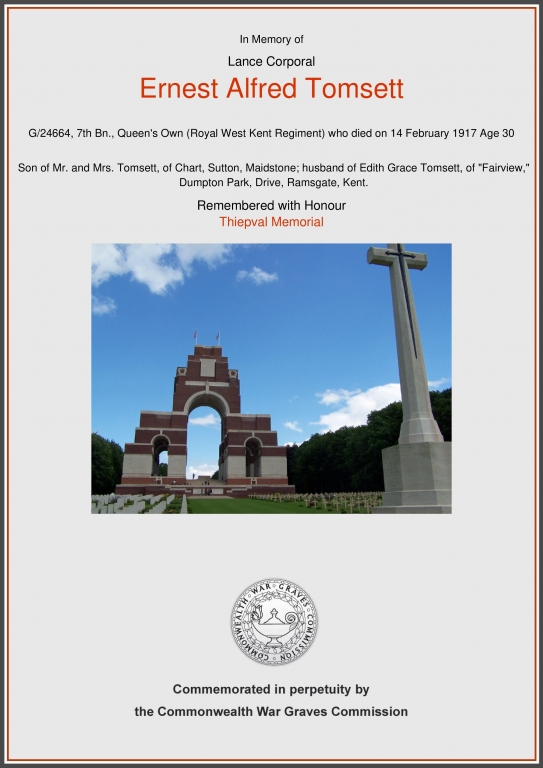 Service Number: G/24664, Queen's Own (Royal West Kent Regiment) 7th Bn.
--o00o--
.
---
---
---
---
---
---
---
---
---
---
---
---
---
---
---
---
---
---
---
---
---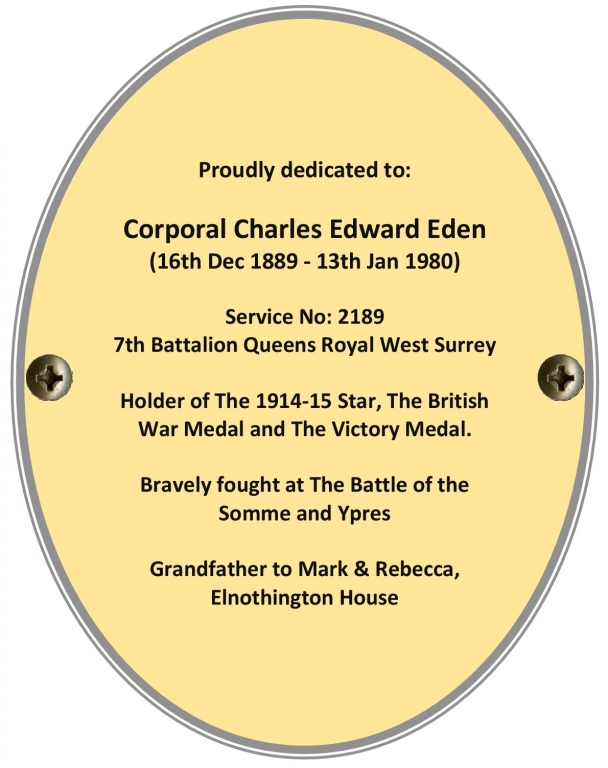 Corporal Charles Edward Eden
Service Number: 2189, 7th Battalion Queens Royal West Surrey
--o00o--
---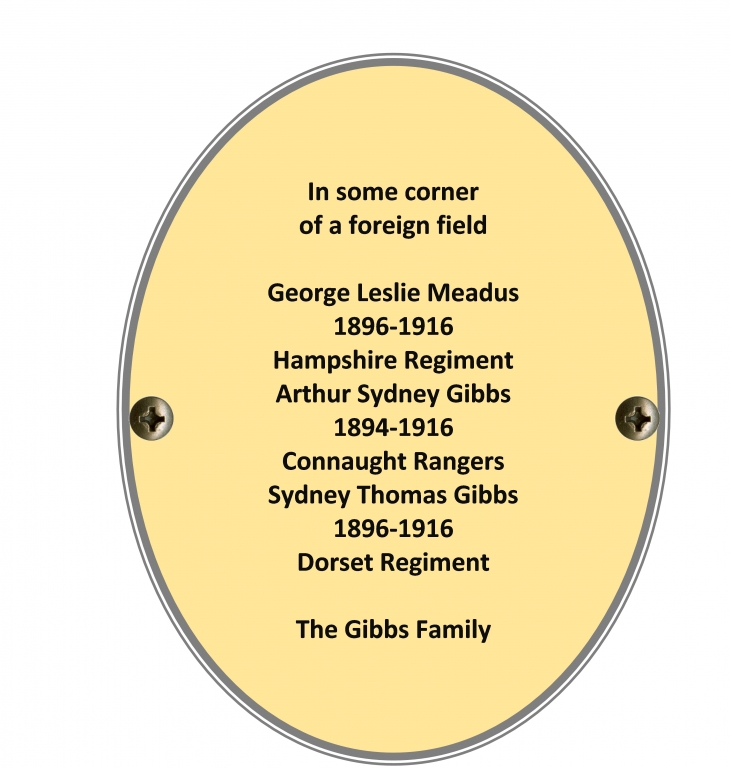 George Leslie Meadus, 1896 – 1916, Hampshire Regiment
Arthur Sydney Gibbs, 1894 – 1916, Connaught Rangers
Sydney Thomas Gibbs, 1896 - 1916, Dorset Regiment
--o00o--
---
---
---
---
---
---
---
---
---
---
---
---
---
---
---
---
---
---
---
---
---
---
---
---
Private John William Holman
Service Number: 18710, 1st Battalion, Wiltshire Regiment

Husband of Carrie Holman, of 7, Mead Plat, Willesden, London.
--o00o--
--o00o--
---